The First Gardner
1919 - 1920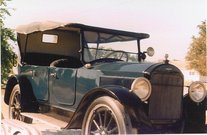 So when was the first Gardner built? Historians are split on this, half claim 1919 the rest say 1920. The answer based on articles in Motor World and Motor Age is 1919. Numbers are not available on 1919 production totals and it is likely that most were prototypes used for testing and refinement. In 2004 a Gardner titled as a 1919 was sold at auction in Texas and is the only reference I could find for a Gardner of that year. Regular production began in February 1920 with 160 produced. None were build in January which supports the case for 1920 being the first year.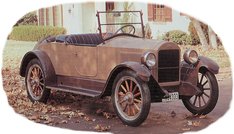 These early units are often described as conservative in styling, and powered by a Lycoming engine that was adequate for the times. This would be true for almost all of the cars built in the $1200 price range. With the Lycoming engine it was a good automobile but not a great automobile.
The touring was the first offering and was quickly followed with a roadster; by September of 1920 the 4-door sedan was in the line up. While the cars
look basically the same for the first three years, a number of changes did take place. One of the first things to be updated was the Gardner logo on the radiator shell, MOTOR CAR was added and the ornate curls in the center were removed, this occurred about June 1920.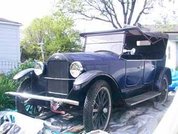 Other updates include; adding an oil pressure gauge, a top aluminum molding added to the touring and roadster, the dog bone moto-meter radiator cap all appeared October 1921.
The high-rimmed conical headlights were replaced with drum headlights in February 1922.
The business coupe was first introduced in the summer of 1922. Numerous mechanical changes took place as well, including a new carburetor in 1921.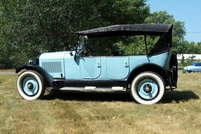 In 1922 Gardner had an unprecedented 1-year guarantee; the standard guarantee for the other makes was 90 days. This extended guarantee is often believed to be part of the 1923 5-bearing engine; it is not; the offer was made in a full-page ad Feb 2, 1922 in Motor Age.
1920 - 1922 "It Speaks for Itself"
1922 "The Guaranteed Car"