A very good two years
1923 - 1924
In 1923 Gardner took the four cylinder engine to a level never seen in the auto industry. The redesigned Lycoming engine for 1923 had 5 main bearings, and no four cylinder car had it except Gardner. At 43 BHP it was also the most powerful 4 on the market.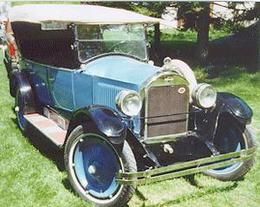 Best said by Menno Duerksen (Aug '72 Cars & Parts)
... But the builders of the Gardner-Lycoming went even beyond that. In addition to the five main bearings to reduce vibration, the crankshaft and flywheel were statically and dynamically balanced. The pistons and connecting rods were carefully weighted and matched. The engine even included a feature the Willys-Knight sleeve valve engine used to improve lubrication of its intricate sleeve system when operating under heavy loads. This was a valve connected to the carburetor throttle, which
caused the oil pump to deliver more oil to the bearing, under pressure, as the load on the engine increased. There is little doubt but that Lycoming and Gardner had indeed come up with one of the most powerful, smoothest and most efficient four cylinder engines ever produced up to 1923...."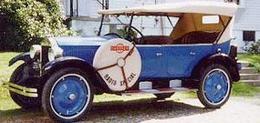 1923 saw the introduction of the Radio Special. Even without a radio it was special. Offered in Limousine Blue with Black fenders. Other differences included nickel trim on the radiator shell and headlights, instead of the standard black. The bumper was standard (front only), disc wheels, step plates, outside rear view mirror, Spanish leather interior, tan top, and cowl lights all set it apart from the other models.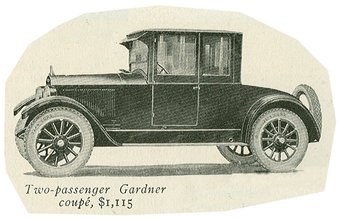 Other changes for '23 included placing the emergency brake on the trans- mission; the exhaust now went all the way to the back of the car. New tourings would be offered with different options and designated as different models.
Closed cars were the most wanted car for 1923. This coupe came with leather seats and a heater.