New styling & new eights
1927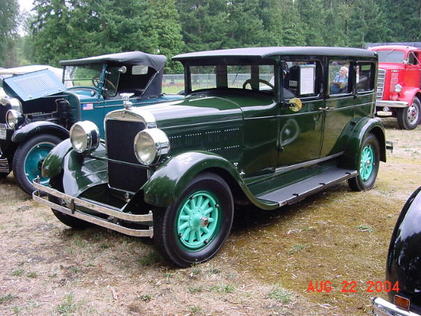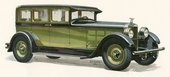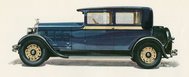 The practice of two series runs for one model year was continued for 1927. This year the differences between the 1st and 2nd series, were substantial.

The first 1927 models were the 6B and 8B, released August 1, 1926. For the most part a continuation of the 1926 models. The six cylinder was discontinued early, only a few weeks into the 1927 production run. The 8B was the only model available until the 2nd production released in January. This 2nd run would have two models the 80 and the 90. While the 90 had the same engine as the 8B, the styling was updated. The 80 had the new 226 CID engine. As important as the mechanical changes were the styling changes for the year. In August a custom brougham with body by Lubitz was offered. About February the roadster body was updated, but only for the model 80, the 90 remained the same. This year with the 2nd series the distinctive hood louver pattern was introduced giving the marquee one of its visual trademarks.

The balcrank (tubular) bumpers were added this year and for both models. The early ads showed only this type of bumper, but an ad in March (and later ads) had the convention bar type bumper on a Model 80 two door sedan and roadster. It is in fact the bumper and the sun visor that identify the above car as a model 80. However headlight shells were painted black on the 80 and chrome on the 90, or could this have been an option?

Innovation continued for 1927 with the addition of the Alemite automatic chassis lubrication, where the up and down movement automatically supplied oil to the front shackles. The Alemite system was well received and Gardner was the only marquee to have it. Other changes included use of the FEDCO numbering system and the loss of the phaeton, that body style was available only for the first series run.

The model 80 was listed at 70 HP (Motor Age listed 65HP). The model 90 was listed at 84HP.

"That Distinctively Different Motor Car"