1920 Gardner Ads
Click image for full size
Motor Age - Nov 27, 1919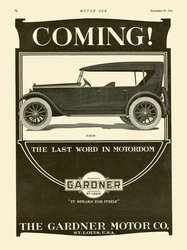 This was one of the first national ads for Gardner;
just 7 weeks after the first showing.
Not yet in production but COMING.
Motor Age - Sept 23, 1920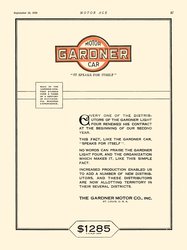 The slogan "It speaks for itself" was first used with Banner Buggies
Motor Age - Nov 4, 1920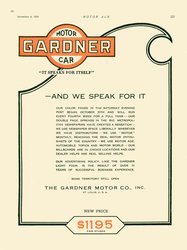 Price reduction from $1285 to $1195 took place October 1st
Motor Age - Jan 1, 1920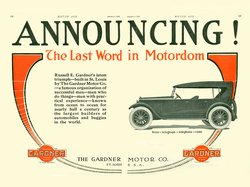 Likely the first 2 page ad for Gardner.
It was claimed that Gardner was the first to have
a 2 page auto ad in a major newspaper..
Saturday Evening Post - Oct 30, 1920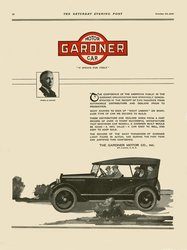 This month Gardner added a sedan to lineup, but used the touring for advertising
Saturday Evening Post - Dec 25, 1920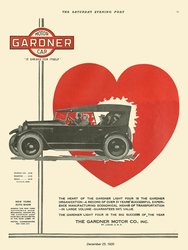 This ad brought a lawsuit from Carhart Motor in Oklahoma City, who had a similar ad. He was asking for $5,000,000